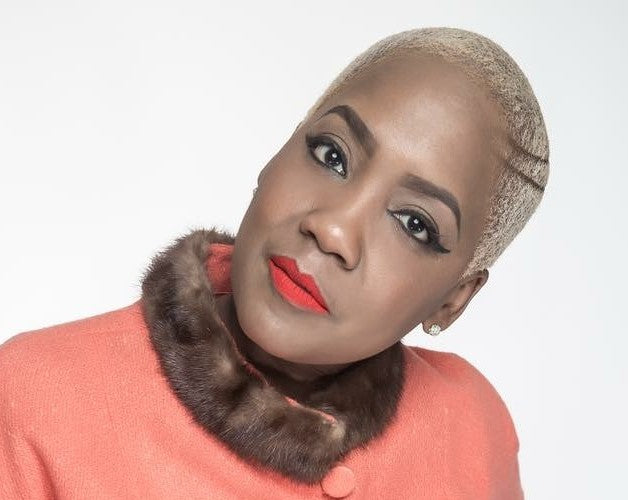 Well she finally did it!-and she says, "Its because God said, It's Time!
It's hard not to like the creator of Ethel Lee Vintage and Art or as she calls her boutique ELVA. Lisa Barber is the founder and fashionista of ELVA and she's quirky and sometimes even crazy. Lisa has a style all of her own and she owns it!  If you know Lisa you know that this woman loves everything vintage! It's just a normal day for her to rock a vintage wiggle dress paired with a python skin Kelly bag with matching pumps. I had an opportunity to visit her studio and she had a vintage Barber chair and deer antlers. When I asked her what that was about she said, "The Barber chair has an artsy look and my last name is Barber so I bought it! She also has deer antlers on the wall that her father gave her after high school. All these years later, her deer antlers are one of her favorite pieces of nostalgia. Here is more about Lisa.
Her muse " I love everything vintage!
Her style "History of fashion and art inspires her to look at the past. She loves traveling the world, estate sales, consignments shops and any place where she can find unique finds at thrift shops for rare haute couture and interesting pieces. She lights up when she talks about vintage and art fusion. She says,"I will pair a 1950's dress with a pair of 80's platforms if it looks cool." She showed me a coveted vintage Dior clutch that she picked up at an estate sale that was in great condition and a pair of wonderful Prada riding boots. Believe me there is a lot of great vintage and designer pieces in her collection!
 Vintage Dior blue clutch bag canvas with Dior logo exterior.
I like to create styles that start a conversation about being your unique you in your fashion. When I see vintage I see art."
Her work - She started her website to give herself a place to do what she loves which is to share vintage and art with the world. She also wants this site to be a place where people come to share their love for art, fashion, designing, models, photographers, makeup, stylist, jewelry designers with a place to present their work to a global market. 
She says,"Welcome to the ELVA party where all things vintage, fashion and art collide."
Her collection includes items which are:
Hand-made
One-of-a-Kind
Wearable-Art
Made to Order
Vintage Couture 
Recycled Style
Her must have object
 - Lisa says,"
I must have a fabulous pair of boots. A pair that can go from buying some seafood at the wharf or going to an art opening. I love a little vintage chic to go!
"
Her creative influence - Old black and white movies and photographs are her source of inspiration.
Her vintage bag and luggage collabo "Lisa has been playing with color and wearable art with her vintage and art fusion handbags and luggage. She loves both loud and crazy designs to the subtle and sexy when she creates a new design.
Check out her store at https://ethel-lee-vintage-art.myshopify.com
 By Jasmin Dancy